Another unrealistic proposal for the sake of the Gospel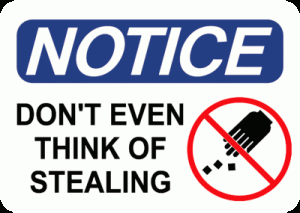 Ephraim Radner has offered an "An Unrealistic Proposal for the Sake of the Gospel" in the Living Church. He wants the Episcopal Church and dioceses to drop all litigation against those who are attempting to take church property with them as they leave the Episcopal Church. That would allow the departing people to drop their litigation too. Then Radner suggests that all parties give the amount they would have spent on litigation to rebuilding efforts in Haiti.
I also have an unrealistic proposal: STOP TRYING TO STEAL CHURCH PROPERTY. Radner's proposal sounds nice at first glance, until you think it through. The litigation is precipitated by one simple fact: people leaving the Episcopal Church want to take what isn't theirs. If no one were trying to take property, the litigation wouldn't be necessary.
Secessionists love to obscure the facts. Here they are: long before Bob Duncan had archiepiscopal aspirations, General Convention clarified, in our canons, that all real property is held by parishes in trust for the Episcopal Church and its dioceses. In most states the legal situation is identical with the canonical provisions, per Supreme Court rulings. These were the rules when many of the secessionists were ordained and promised to be loyal to the "doctrine, discipline, and worship" of the church.
Now, I have written here on 7WD that I do not agree with what I often see as an overly aggressive approach to litigation, especially as regards involvement from 815. At the same time, we should have no illusions about what is happening. People are trying to walk away with what they knew wasn't theirs. Were it up to me, I would like to see equitable settlements reached with departing congregations so that they could stay in the buildings to which they are accustomed and the dioceses could maintain their fiduciary responsibilities. Sadly, that is rare these days. I do agree with Radner that litigation is unfortunate and often unchristian, but we differ about how to stop it.
As an aside, our friends in the Church of England often fail to grasp the dynamics of our situation here. They wail about litigation, as if ACNA and the rest of the alphabet-soup Anglicans are innocent victims. But I challenge General Synod to imagine this situation: a PCC in, say, Kent votes to leave the Church of England for one reason or another. Does anyone in General Synod have any illusion that a departing C of E congregation would or should be allowed to keep their building? Of course not! Why things should be any different here is beyond me. (I suppose it's because the secessionists have been on their good behavior in England thus far.)
I agree with Radner: let's stop the litigation. I'll even go so far as to agree that it would be pleasing to see those resources redirected to Haiti relief. But let's also be clear that there's one surefire way to end the litigation: secessionists can just walk away.
Oh, and by the way, I think it's a cheap shot to drag Haiti relief into attempts to garner sympathy as "victims" of 815. That's like taking the victim card and playing the victim Joker instead.