Killing in the name of Jesus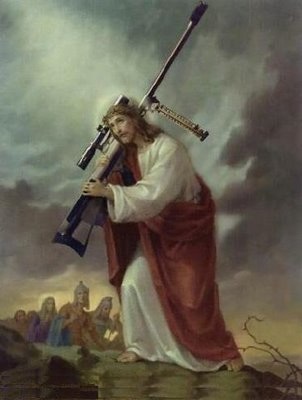 The solemn collects of Good Friday include prayers for "those who in the name of Christ have persecuted others" that "God will open their hearts to the truth, and lead them to faith and obedience." We like to tell ourselves that Christians killing in Christ's name is a relic of the Middle Ages. Sadly, this continues right up to today, to the tune of $660 million in US military contracts.
ABC News reports that US Marines and Army solidiers in the Middle East are using rifle sights inscribed with references to Bible verses. This equipment has been supplied by Michigan-based Trijicon, who finds nothing wrong with the practice. When questioned about this issue — and obvious constitutional issues of church-state separation, among others — Trijicon marketing staff said there was no problem and the Bible verses "had always been there." The company staff person blamed the controversy on uppity "non-Christians."
Well, this priest in Christ's Holy, Catholic, and Apostolic Church is outraged. Where to begin? Let's start with practical matters. It will (rightly) inflame Muslims to learn that US military forces are fighting a war with equipment that contains references  to the Bible, such as one to John 8:12 ("Whoever follows me will never walk in darkness, but will have the light of life"). How can we have any credibility when we say we are not fighting a new crusade, while our forces use equipment that is marked with verses about following Jesus?
Continuing to speak as a priest, I am further outraged by the perversion of the faith to which I devote my life. Jesus surely wants us to share the Good News with the whole world, but not in the side of deadly weapons. More to the point, killing in Christ's name violates every teaching of the Gospels. I might concede that war is a necessary evil, though I have strong pacifist leanings, but we can never imagine that we have God's approval to fight wars. Every war, every weapon, and every death in battle represents a tragic sin. To mock Jesus Christ by stamping "the light of Christ" on a rifle scope is to engage in deadly blasphemy.
Now I'll switch to my American citizen hat. I do not want our government to purchase and employ weapons with religious messages of any kind, from any religion. I do not want our government to make choices, especially involving Christian references, that will needlessly provoke the wrath of the world. To continue in this reckless behavior is to breed a new generation of terrorists and others who hate the "crusading Americans".
We must have accountability here, for two reasons. First, we need the world and especially those who are likely to misunderstand the US, to know that we are not a nation of crusaders bent on exterminating Muslims. Second, we must not have suppliers to our government, especially our military, foisting their religious views on others. Congress must hold hearings right away to find out if this is an isolated case, or if this is a widespread practice.
Here are three ideas for responding to all this.
Procurement officials must be fired. Whoever knowingly approved this purchase (starting at the top of the food chain) must lose their jobs. This is not a time to sack a low-level clerk, but the person farthest up the command chain who knew what was going on. Military officers should be disciplined as well. They should have known better.
The contract with Trijicon should be terminated immediately, and they should receive no further contracts until they — at their expense — replace all rifle sights with identical equipment minus Bible references.
Policy must be enacted — and published — which clarifies that we do not mix religion and military action.
There will be people — mostly right-leaning Christians — who will object that this isn't a big deal. To them, I would ask this: would you mind if the US Army were using rifles with verses from the Koran which called for Christians to convert to Islam? You see my point. The Pentagon is full of evangelical conservative Christians. That's fine, but their religious preferences must not spill into policy decisions or onto military equipment.
If you are bored tomorrow, give Trijicon ("Brilliant Aiming Solutions") a call. And by all means email or call your US Senator or Representative. Ask for hearings and action.
Tip of the helmet to Boing Boing.