An invitation to celebrate with joy the Good News
This is what I wrote for our email newsletter this week.
As I write this, the Christmas bulletins are printed, the church is nearly ready for our celebration of Christ's birth, and even the shopping is (almost) done. These final moments of Advent are the perfect opportunity to step back and ponder the mystery and the true joy of Christmas.
You would expect a priest to point out that true Christmas joy is not to be found at the mall or under a tree. And even though most of us treasure family gatherings this time of year, we can't find the true joy of Christmas at home.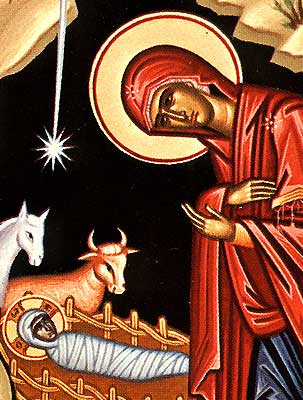 To find the true joy of Christmas, we gather in worship with other Christians. We gather and hear the stories, sing the hymns, and savor the sights. We gather and — if we are fortunate — a thin place between earth and heaven opens up for us, to reveal what Christmas is all about.
Christmas represents nothing less than the salvation of all humanity. In this feast, God closes the distance between divinity and humanity. God reaches into history and transforms us all, making it possible for us to receive the gift of eternal life. Being born as a powerless infant, God shows that the only real power on earth is love. The only real strength is in humility.
Let us, in our hearts, gather at the manger and sing with the angels. Let us delight in God's love for each of us and for the whole creation. O come, let us adore him. See you in church!