My letter from God
It's not every day that one gets a message directly from God. Of course, "God" didn't seem to know my name, as this was how the letter was addressed: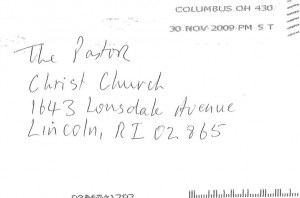 OK, so I didn't take it too hard that "God" forgot my name. When I opened the letter, this was God's message (reproduced here exactly, including line breaks):
A Message From The Lord God Almighty,
Creator of all who believe in Him and do not believe,
Whose breath alone is the source of life
For all humans and animals,
Dispersing wealth and greatness to the good and wicked alike;
Whose arms forever wait to embrace those who surrender to Him;
Whose eyes scan the world every moment,
Watching every display of good and evil;
Whose power transcends the bounds of understanding,
Rushing to bless and defend His loyal ones,
And curse the wicked ones with His punishment
So that they can never run or hide from Him,
But decrees forgiveness for those who regret the past,
And change.

To all church leaders in America who remain silent on the news of this my Day of Judgment.
Why did I allow you to become a church leader?
Was it not to spread my word, and my word alone?
Now therefore, I the Lord give you this command:
Begin to warn my people now about my Day of Judgment –
That this land is about to swallow a bitter pill,
Launching a torrent of unprecedented disasters
That will crush the pride of Americans,
And shame the land that is champion of the world.
Begin to show my people how they can survive it,
So that they will stand while all around them fall,
And the pains of hunger will not touch them.
Teach them to pray,
To increase their obedience to my laws,
To pass on this warning to their loved ones,
And fearlessly wait.

If you refuse to warm them about the urgency of my word,
I will bring you down in shame, and toss you out of the church.
They will watch as you are swept away in the flood of disasters,
And I will send you to hell to join the devil and his angels;
And you will know that I am the Lord God your Master,
The Governor of all the earth.
In a way, this is a fitting message for this Advent season. While I think it's possible that the scribe ("Hilton Fyle") is a bit misguided, it does seem to me that our pride could use some crushing and we probably ought to swallow a few bitter pills. Mr. Fyle has signed the letter as the person who received the message and transmitted it to me, and possibly to many others.
Another blogger also received this letter, and he did some checking into Hilton Fyle. I'm curious what motivates Mr. Fyle to send these letters and what he expects in return. I'm very, very curious if there's any fruit of the letters other than some extra recycling. What do you think, dear reader? Might God speak through Mr. Fyle? Does God still threaten the Total Smack-down for disobedience? Did you also receive a letter from God?