Traffic jam in the Tiber?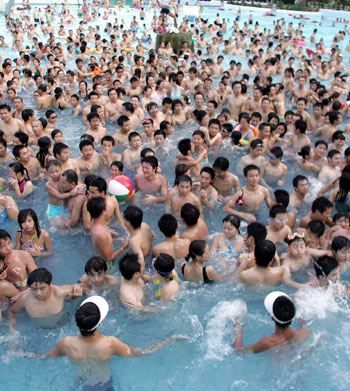 Many readers will recognize the old phrase "to swim the Tiber." This has long been a clever way to talk about people who convert from Anglican churches to the Roman Catholic church. The Vatican made waves recently when it announced plans to receive Anglicans en masse. Personally, I don't think very many Americans will take the Pope up on his offer.
Most of the secessionists here are too congregationalist to accept the order and discipline of Rome. More to the point, there are lots (and I mean LOTS) of bishops in the formerly Anglican alphabet soup who won't want to trade in their newly purchased purple shirts for street clothes while they prepare for ordination as (gasp!) priests. You see, to take this offer, you have to admit that not only are your own Holy Orders invalid, but every sacrament you've ever ministered is null and void. Ouch.
Of course, in England, the situation might be different. The Church of England is filled to the brim with all sorts and conditions of unhappy folk, who have not had a viable option until now. The Roman Catholic option, with its unapologetic homophobia and unfettered sexism must look like the Promised Land to a few people. Why am I so cynical?
Let me tell you a story. When I was at the Lambeth Conference, I was sitting in a bar one evening with some friends. Over at the next table, a few of the leading Forward in Faith types were sharing a table with an American bishop — one of our excellent female bishops. When she got up and left, one of the men said, "Well, if more of our bishops could look like THAT, maybe I'd change my mind on women bishops!" Hearty guffaws were shared all around. I was a bit sickened by the comment and its response. Not exactly what you'd call model spiritual leadership. And that was not a very theological way to view the situation, I think you'll agree.
Anyway, I was inspired by Bishop Eugene Sutton of Maryland. He's reminded folks that the door swings both ways. Sure, the Pope can reach out to Anglicans. And we might reach out to Roman Catholics. So here's my plan:
I am thinking that I could invite the priest from the local RC parish to send some people over and chat with people after mass at Christ Church one Sunday. Maybe some folks from Christ Church would like to swim the Tiber. If so, I'd send them with our blessing.
And then, one Sunday, we'd send some folks down to the RC parish to tell them about the Episcopal Church. We'd tell them about our Catholic liturgy and tradition. We'd tell them about our welcome, which in its expansive shape includes women, those with theological questions and even doubts, those who have experienced broken marriages, and those of all sexual orientations. We'd show them our budget and our bylaws, with complete transparency. We'd tell them about our unapologetic desire to be disciples of Jesus Christ.
I think the Tiber would get pretty crowded. You see, I think the Pope has started something he might regret. When we start telling people about everything that Anglicanism offers, we'll need lots and lots of towels to dry off incoming Roman Catholics who want to worship Jesus Christ in a church that is not defined by exclusion and secrecy.