Facebook 3.0 for iPhone is out
In a (pleasant, I hope) diversion from recent ecclesial squabbling, I bring you the latest tech toy…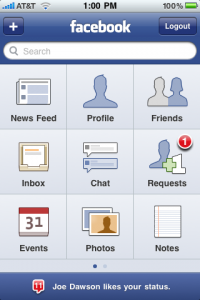 Have an iPhone? Use Facebook? Then you're going to want this. That's right, Facebook 3.0 for iPhone is out now. You can read all about it over on TechCrunch. They do leave out one key problem: this new version displays quiz results (argh!) in your news feed, which I find annoying. I'm sure there will be a workaround soon. Well, other than un-friending all your quiz-happy friends.
The new application brings a slew of new features, making it what may be the most useful app on the App Store (be sure to read this post) for our full review. Among the additions are Events, which have frustratingly been omitted from previous versions. Now you'll be able to look up where your Events are, and you can also respond to them and see which of your friends are attending (for anyone who has ever had to boot up the web version of the site just to look up an Event address, this is a big deal). You can also post video directly to the site if you have an iPhone 3GS — a feature that will likely see the number of videos on Facebook increase dramatically.
So if you are on the high-speed tech bandwagon, go install this one today. Hey, unlike most tech toys, this one is free. Enjoy!