Of pastoral petulance
Last week, the Evangelical Lutheran Church in America held its biennial Churchwide Assembly. This is much like the General Convention of the Episcopal Church (full comparison post coming soon!). At the Assembly, Voting Members approved a statement on sexuality and some implementing policies. Among these, the ELCA will now make provision for the appointment (or "rostering") of gay and lesbian clergy in same-sex relationships. I'm simplifying, but keep with me. (You can read more here, among other places.)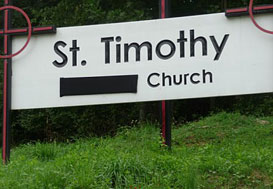 On the Sunday at the end of the week, the Charleston Daily Mail reports that parishioners at one Lutheran church in West Virginia arrived to find their church sign defaced. Who was responsible for this vandalism? None other than the pastor, who said, "I'm ashamed of what the Evangelical Lutheran Church in America has done to a church I've loved for 40 years."
What's interesting to me is that there was great effort in the Assembly to make provision for those whose "bound conscience" would not permit them to accept the ministry of gay and lesbian clergy. This pastor might have gone the rest of his career without actually setting his eyes on an openly gay pastor, but still he felt the need to ratchet up the anxiety in his congregation.
Episcopalians have not been immune from this petulant behavior. Congregations have held funeral services "for the Episcopal Church" (I am not making that up, sadly). Others — including, I believe one parish in Rhode Island — have defaced their church signs to remove the offensive word "Episcopal." One cathedral flew a black flag after General Convention 2003. Let's be clear: this sexuality crisis — that is, the potential for schism in the church — is not being driven by aggressive behavior from progressives. No, it's being driven by grand-standing, petulance, power grabs, and fear-mongering by some on the right.
Here I am not talking about some conservatives who do not approve of the direction their denominations have taken. I count among my friends several people who do not agree with, for example, my views on human sexuality. These people are willing to make their views known, and they may well try to rally support to roll back the changes. At times, they may vociferously protest proposed changes. But this behavior is well within well-adjusted adult norms. Most emotionally and spiritually healthy people can engage in serious disagreement, finding points in common and disagreeing on other points.
Not everyone puts their best self forward when entering disagreement. This Lutheran pastor will, I'll bet, claim victim status — saying he's being driven out of his church. But who is asking him to leave? Why should it bother him if a congregation in central Minnesota decides to call an openly lesbian pastor? Sure, not everyone will like these actions, but that does not mean anyone is being driven out.
For many years, progressives were unhappy by synodical votes in many denominations. And yet these progressives came back to assemblies and conventions again and again, out of a shared love for Jesus Christ dwelling in the church. Now that a few votes in the Lutheran and Episcopal churches go "the other way", some conservatives feel the need to stomp off or to engage in anxiety-raising behavior. Really? Is that what it's all about? You either get everything your way or you won't stick around? Where's the catholic sense in that?
I was not born into the Episcopal Church. At some point in my 20s, it become clear to me that I didn't fit in the church in which I was raised. I changed some, and so did the church. Did I claim victim status? No. Did I say to others why I was leaving? Yes. No one pushed me out, but it was clear to me that I needed to move on. I said my goodbyes and wished my friends well. For their part, they offered me their blessing.
Maybe it will become clear to some conservatives (or progressives) that they need to move on. If so, I will mourn their departure. I truly will. But I won't stand around when people throw tantrums. You can't let that stuff stand with a four-year-old, and you certainly can't let it stand with adults.
Pastors should know better. People come to church to hear the Good News of Jesus Christ, not to hear the pastor's view on some denominational conference that took place hundreds of miles away. People come to church for hope, not for fear-mongering.
Do these denominational disagreements matter? Sure they do. I held a forum on the Sunday after General Convention, and I've offered to speak with anyone who had questions or concerns. I've made it clear that the Episcopal Church — on things other than core doctrine — welcomes many positions, and parishioners do not need to agree with the General Convention, the Bishop, or their priests. These things matter so much to me that I flew to Tanzania in 2007 in an effort to effect positive change in the Anglican Communion. But neither then nor now would I set aside the Good News in my sermons to make room for bile about those with whom I disagree. It's not polite, and it's not, frankly, Christian.
If the pastor of St. Timothy's Lutheran Church can no longer call himself a Lutheran, let him leave. And let him leave his Lutheran congregation behind, in peace, to proclaim the saving grace of Jesus Christ.
Photo from the Charleston Daily Mail.