Was THIS worth $300,000 and citywide panic?
You may remember the massive panic that ensued last spring when Air Force One showed up the skies of New York City for a photo shoot. This was a stupid project on any number of levels. First, the White House treated this as top secret or classified or "decoder rings only" or some such silliness. So while a few New Yorkers knew about this, no one bothered to tell the people who work in various high rise towers. Understandably, in a city that lived through terrorism attacks using airplanes, folks got jittery when a 747 and some fighter jets flew very low over the city.
Second, the whole thing could have been avoided. A standard desktop computer using Photoshop could have done what cost as much as $400,000 with airplanes. Here's one sample from IHateTheMedia, estimated cost $10: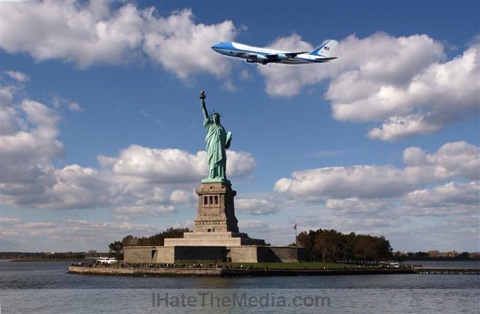 The New York Daily News has a whole round-up of more interesting possibilities. Go have a look, but here's one excellent sample:
So next time you hear someone proposing a massive secret project that is likely to spread panic throughout one of the largest cities in the world, ask yourself if the same thing could be done by the geeky kid next door.
Top image from the Gothamist.