10 liturgical changes inspired by swine flu fear pandemic
Notice in my headline that I wrote "fear pandemic" and not pandemic. In an earlier post, I wondered whether all the worry about swine flu is well founded or not. I can't tell so far. It seems like regular flu that spreads more easily. While it will cause tragic deaths, it joins many other causes of tragic death. We should be concerned, but perhaps not disproportionately to its effect. But I digress.
The Interwebs are full of possible ways churches will respond to swine flu. Even the normally reputable Washington Post has gotten into the act. When you click the link, make sure read the comments. I hear talk of bishops in the Episcopal Church permitting (or requiring) parishes to offer communion in one kind only (in violation of vows to be loyal to the doctrine, discipline, and worship of the church).
Here's the rub. At Christ Church, we will offer our regular Sunday services according the forms in the Book of Common Prayer, unless machine gun toting troops from the National Guard are preventing the clergy from getting to church. Period.
That said, all this talk has gotten me to thinking of 10 Ways to Make Church Safe During a Fear Pandemic. An anonymous clergy person has assisted me in this project.
10. Presider wears a haz-mat suit. These come in yellow, which is perfect for this Easter season.

9. Narthex turned into a decontamination room, where people are hosed off as they enter & exit church. Since it's Eastertide, we'll chant Vidi aquam whilst we do this.

8. Webcast church service, with a note in the service register about how many IP addresses accessed our stream. We can't let this crisis hurt our ASA.

7. Add healing to service. Maybe people will really pay attention.

6. Use incense — loads and loads of it — to fumigate the building. Add methyl bromide to the mix for good measure. (Who needs ozone anyway.)

5. Shoot communion wafers at congregants from great distance, to avoid contamination.

4. Enhance lavabo procedure.

3. Remind people that holy water could possibly stave off zombies during the plague. This only works if the zombies are, in fact, vampire zombies. The final effects of swine flu are yet unknown.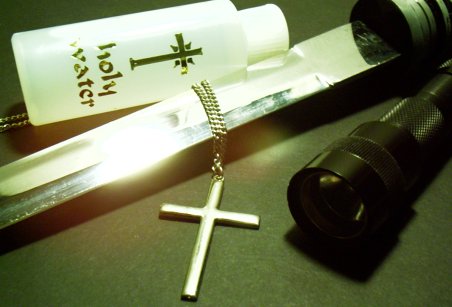 2. Since neither red wine nor port may have a high enough alcohol content to kill all germs, use something stronger. To comply with the Lambeth Quadrilateral, this may need to be mixed with grape juice.

1. Since shaking hands is about the most effective vector for this contagion, we should ban any kind of touching during the Peace. Instead, we'll encourage everyone to blow air kisses.