Meditation for Ash Wednesday
From our parish prayer booklet, a reading and a prayer for Ash Wednesday. Look for one of these each day in Lent and Holy Week.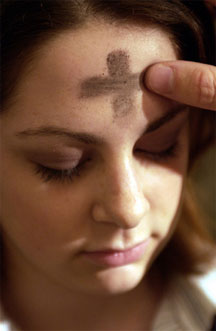 Yet even now, says the Lord, return to me with all your heart, with fasting, with weeping, and with mourning; rend your hearts and not your clothing. Return to the Lord, your God, for he is gracious and merciful, slow to anger, and abounding in steadfast love, and relents from punishing. Joel 2:12-13
Fleshly God, you greet us with bodily presence and thus make it impossible for us to control you. We give thanks for our bodies, destined as they are to death. Through them, you give us life. Make us your resurrection body, that they world may know your Spirit. Amen.
Prayer by Stanley Hauerwas, from Prayers Plainly Spoken.