Ring out the Good News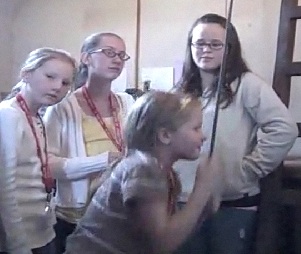 Today, along with many other churches, the parish I serve rang its tower bell 350 times. We did this to warn of catastrophic climate change. It turns out the 350 parts per million is considered by some scientists to be a safe level of carbon dioxide in our atmosphere. We're way over that now, and there's a growing campaign to ask us to immediately and radically reduce our carbon emissions. You can read more at www.350.org.
Anyway, one of our Vestry members sent out a press release to several papers. Our local town paper ran an article. I was delighted to welcome a photographer from the Providence Journal today. I think they'll have an article in tomorrow's paper (look here for an update). Anyway, the photographer also shot some video, which is now online. It's pretty fun.
Lots of times we Christians complain that we're never in the news for the right reasons. But what do we do to change that? At Christ Church, we've gotten a fair amount of local media coverage in the last year. It's not because we have an highly-funded  PR machine. It's because we try to do compelling things, and we sometimes remember to tell the local media what we're up to. Any congregation could do this.
Of course, the local paper won't write an article about your ham & bean supper. Sorry, but it's just not interesting to anyone outside your congregation. But they'll gladly come to cover interesting things you do. We have an annual Holiday Bazaar (like nearly every other parish in Rhode Island). That's not very interesting to a local paper. But the fact that one of our high school kids sells loads of pickles that he makes on his own was deemed interesting. You have to think up an angle for the reporter, and then they'll be happy to have interesting news to cover.
Why do this? Because we need to tell people that we're creative, vital congregations. We need to get into the news so we can share the Good News. Rather than complain about the decline of the Episcopal Church, let's do something to change that! Not because we need to use gimmicks, but because we need to share the Good News that's already present in our lives and in our congregations.