Disturbing development in the Dave Walker story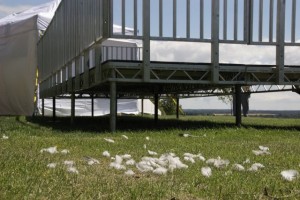 Sure, he seems nice enough. Who would find reason to mistrust a cartoonist? But regular readers here know that something may be amiss. Over in another blog posting, a commenter tipped me off to a disturbing situation. You can see a photo of it over on the right. That's Dave Walker's tent in the background. Then, just in front of that is the stage (for whatever purpose Dave intends to use it). Finally, in the close foreground, you'll see the feathery remains of some kind of bird. How did this bird meet its demise? Can it be a coincidence that the observed only bird death so far at the Lambeth Conference is right next to Dave Walker's area?
I don't know what Dave is up to, but I did notice he had chicken for dinner two nights ago. So we know he doesn't mind offing a few birds here and there. He cleverly had his entree removed before I saw him this evening. Will Dave fess up to involvement in this bird's tragic end? Will he explain the connection, if any, to his cartooning and dancing?
Sure, some of you will be thinking that this is all circumstantial. I boldly walked into Dave's tent and snapped this photo. I think it says everything that needs to be said.
The 7WDBI have been scouring the Conference for additional stories, and I have a humdinger. I may have Communion-wide ramifications. Stay tuned to 7WD for all the details.
UPDATE: All joking aside, make sure you read this post, about a real problem that Dave is dealing with.