An update on the Rev'd Ann Holmes Redding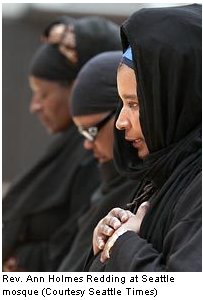 Bishop Geralyn Wolf has sent a letter to the House of Bishops with an update on the Rev'd Ann Holmes Redding. As you may recall, Mother Redding is an ordained priest (canonically resident in the Diocese of Rhode Island) who seeks to follow Islam and Christianity together.
When this story broke about a year ago, the usual suspects on the right used it as an example of ways in which the church has lost its way. And yet she was placed under discipline quite quickly. That kind of took the wind out of the naysayers' sails. The Episcopal Church may seek to follow the Gospel call to welcome all, but there are boundaries. This reality is not convenient for those on the right, so they continue to use the "Muslim priest" in their mythology, despite the fact that she's been under a Pastoral Direction since June 2007.
Most sensible people will agree that you cannot be both a Muslim and a Christian priest together. From either perspective, it would seem, these two traditions cannot coexist in one person. Bishop Wolf has dealt with this in a most gracious way, I think. She has respected Mother Redding's dignity and authenticity, even as she has had to mete out discipline. It seems downright Christian.
I've reproduced the most recent letter, below the fold.
June 20, 2008

To: Members of the House of Bishops
From:  The Rt. Rev'd Geralyn Wolf
Re: The Rev'd Dr. Ann Holmes Redding

In June of 2007, I issued a Pastoral Direction to The Rev'd Dr. Ann Holmes Redding, a priest canonically resident in the Diocese of Rhode Island but living in Seattle. She claimed to be both a Muslim and a Christian. Among other things, she was suspended from all priestly duties for one year, at which time I would review the situation. If it became necessary to take further action the Standing Committee of the Diocese of Rhode Island would be engaged in early July, 2008.

I met with The Rev'd Dr. Ann Holmes Redding on May 22, 2008, and believe that she remains committed to her profession of both Christianity and Islam. As I am leaving for pre-Lambeth engagements on June 28, prior to the end of her suspension, I have extended the Pastoral Direction until September 15, 2008. I do not think that it is fair to make a decision of this nature from afar; without ready access to either Dr. Redding or the Standing Committee.

The decision for extension was not requested by Dr. Redding, nor does it indicate a change in my understanding of the theological conflicts inherent in professing both traditions.

Dr. Redding is a woman of utmost integrity and our conversations remain open and mutually gratifying. I have great respect for her and the process of exploration to which she is committed. I also remain devoted to our Christian faith and the ordination vows taken by those who have entered the sacred priesthood.

The media is requesting an update from me. Recalling the attention this attracted a year ago, I share this communiqué with you.

Looking forward to seeing you at Lambeth.

GW:ec

Cc: the Rev'd Dr. Ann Holmes Redding; Standing Committee; Diocesan Council;
Email: All Clergy; Ms. Neva Rae Fox; Ms. Janet Tu