You can request your own GAFCON ban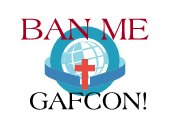 7WD's breathless breaking-news coverage of the GAFCON ban continues. There's a facebook group, started by the Rev'd Peter Carey, "I want to be banned by GAFCON, too!" If you're a facebook type, make sure you join right away. It's a public group, so the GAFCON command center will see your request. If you are lucky, you can be on the list along with the GAFCON 8.
UPDATE: As of 1:00 p.m. EDT, there are now 40 people requesting a ban from GAFCON. Why not join the party?
UPDATE: At 4:00 p.m., we're up to 70 aspirants to banishment. Want to be banned? Y'all come in! (Ironic, isn't it?)
UPDATE: As of 10:30 a.m. EDT on June 24, there are 238 people seeking to be banned. If we keep this up, there will be more ban-fans than GAFCONites.
UDPATE: At 4:30 p.m., June 29, there are 645 members.