Easter words that work, 1600 years later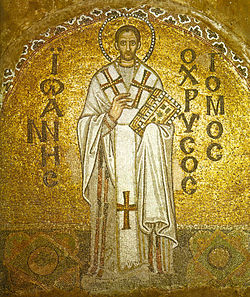 I love the Easter Sermon of St. John Chrysostom. I've encouraged its use at any Easter Vigil in which I've had a say. This year, our deacon read it at our Great Vigil of Easter. I think it's perfect for that occasion. It says everything about Easter — and about Christianity — that needs to be said.
There are lots of versions floating around, but after some digging, my current favorite is the work of André Lavergne. Just in case you're one of the people who hasn't read this gem lately, here are two snippets.
The universal embrace of God's love is clear:
First and last alike, receive your reward.
Rich and poor, rejoice together!

Conscientious and lazy, celebrate the day!
You who have kept the fast, and you who have not,
rejoice, this day, for the table is bountifully spread!

Feast royally, for the calf is fatted.
Let no one go away hungry.
Partake, all, of the banquet of faith.
Enjoy the bounty of the Lord's goodness!
The power of God's love is also clear:
Hell grasped a corpse, and met God.
Hell seized earth, and encountered heaven.
Hell took what it saw, and was overcome by what it could not see.
Go read the whole thing.
Image from St. Paul the Apostle Orthodox Church in Las Vegas, Nevada.