The road to Resurrection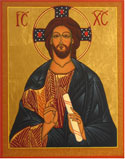 Thanks to The Lead for drawing attention to a great resource.
Every year Christians throughout the world join in retracing the steps of Jesus' final week. Join the Brothers of SSJE as they walk the road to resurrection, from Jesus' triumphal entry to Jerusalem to the Last Supper and anguish of Gethsemane, from the agony of the cross to the glory of the empty tomb. Each day will feature a sermon or reflection (or both!), as well as portions of the major liturgies.
If you can't get to Cambridge, MA this week, visit the monks online.