Impaired communion gets a new meaning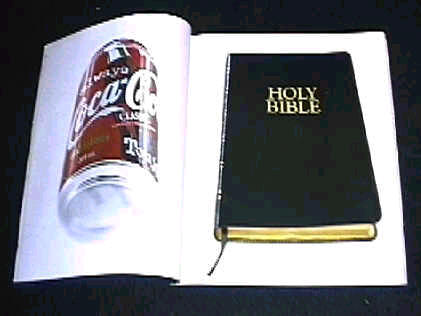 "Eucharistic Food and Drink" is the topic of a new report just issued by the Anglican Consultative Council's Inter-Anglican Liturgical Committee. While endorsing variances such as gluten-free bread and, in some cases, grape juice, the report continues to affirm traditional bread and wine as the normal stuff of Holy Communion. What I found interesting is the survey of regional variations to the 2000 year-old, near-universal standard of bread and wine. I quote:
In sections of Africa and the Far East the scarcity of wheat bread or wine had brought about the use of local substitutes. The Philippines reported the use of rice cakes and rice wine, while Uganda noted that Coke, banana juice, passion fruit or pineapple juice was used in some parishes. The practice had arisen, it said during the "difficult years of Idi Amin" when bread and wine were all but unobtainable. However, it could not say how widespread the practice was at present.  (emphasis added)
So let me get this right. The provinces that has declared "impaired communion" with ECUSA is itself using Coke or pineapple juice for the Eucharist. Talk about impaired communion!
Let me set two things straight. First, I've been to Uganda. Even the rural regions. Wine could be available anywhere, if it were important. Second, I'm aware of the Jesus-used-the-local-food-and-drink-of-his-time argument. I could be open to that. But then again, I'm a progressive revisionist. Surely a true traditionalist would insist on, um, the tradition?
All I'm saying is this. If there's money to fly Archbishop Henry Orombi all over the world in business class, there's money to buy wine for the Eucharist. And if you're going to get all bent out of shape about someone else following the "tradition" then maybe one should first remove the beam from one's own eye.